Food And Drink Case Study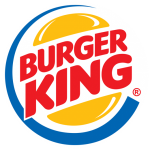 Founded in 1954, BURGER KING® is the second largest fast food hamburger chain in the world. Every day, more than 11 million guests visit BURGER KING® restaurants around the world. The original HOME OF THE WHOPPER®, the company commits to premium ingredients, signature recipes, and family-friendly dining experiences.
In late 2018, ELG worked closely with Burger King UK to upgrade their lighting to LED technology. The rollout involved over 70 sites with ELG's installation team working overnight to replace the lighting in front/back of house, kitchens and external areas.