Food And Drink Case Study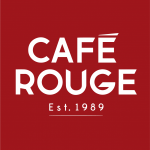 Café Rouge is a French-styled restaurant chain, with over 70 sites across the UK serving French classics. As part of the Casual Dining Group, Café Rouge continues to recreate core French classics like Steak Frites, Poulet Breton and Moules.
As their lighting partner, ELG has recently worked closely with the Café Rouge team to upgrade their site located in St Albans to LED technology. When it comes to LED lighting, ELG is at the forefront in supporting its customers in converting to super-efficient lighting.